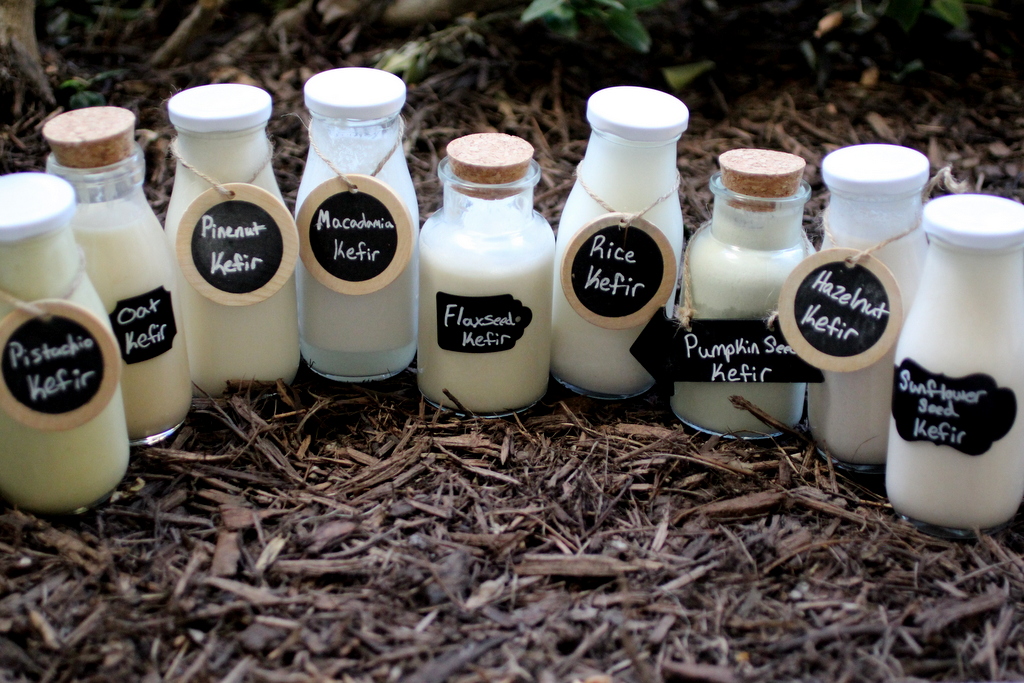 A few weeks ago on Intstagram I shared that I have been making my own almond milk kefir and a few people asked me to write a post about how I make it.
I am a fan of eating probiotics because they do wonders for you gut.  A few months ago I tried adding dairy based lactose-free kefir in to my diet and to be honest it constipated me in the worst way.  Because of that I began to research dairy-free kefir alternatives and came across The Cultured Food Life blog which is a wealth of information.
I was and still am shocked at how easy it is to make kefir if you follow a few key steps and avoid using anything metal.  When I first started making kefir my results were hit and miss and I couldn't figure out why until I realized that I was either stirring the mixture with one of my metal chopsticks or using mason jars with metal lids…I later learned that using metal is a no no because the kefir culture reacts poorly to it.
In order to avoid metal lids I ordered THESE jars from The Jar Store (such good prices) and haven't had a problem since, though I will say that pouring the kefir out of these jars can be a little messy (live and learn).
METHOD
 (IMAGE 1) Pour 4 cups non-dairy milk (I use almond milk) into your glass vessel along with 1 packet of freeze dried Kefir starter (like THIS one) and 1 tsp of sugar.  Since we are not using dairy based milk that contains sugars, you need to add some, but don't worry about any extra carbs because the culture will eat the sugar.  Stir using a wooden or plastic spoon.
 (IMAGE 2) Place the lid on the vessel and allow it to sit on the counter for 12-24 hours until it looks like image 2.  How long it takes for the kefir to mature will depend on how warm it is, etc.  Once the kefir is done place it in the fridge.
 (IMAGE 3) This is what the kefir looks like after it has been in the fridge for a day (it thoroughly disgusts my kids!).
 (IMAGE 4) Stir-up the kefir and you are good to go.  I use it mostly in smoothies, but have also used it in my homemade protein bars.
It is really simple to make more kefir.  When you have about 1/2c of kefir remaining, add 1 tsp of sugar, 4 cups of non-dairy milk, and leave it out on the counter again.  It will take a few hours more for the kefir to cure since it started out cold from having been in the refrigerator.  I can make kefir this way 5-6 more times before starting the process all over again with a new packet of freeze dried starter.
I have used several brands of yogurt/kefir starter and they all have worked well.
I am interested in trying to make kefir with real kefir grains because once you have those you can use them indefinitely.
Happy culturing!
image above of different types of non-dairy kefir is from Cultured Food Life.